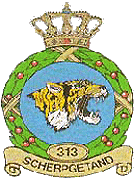 1 April 2004
313 sq 50th Anniversary
Despite some scepticism because of the date of this event, the Royal Netherland Air Force's 313 sq's 50th anniversary included a photo call at the unit's base, Twenthe Air Base in the Netherlands.Thanks to the hospitality of the base's staff, it was possible to go on base and view and photograph some of the proceedings.
313 sq was first formed in 1952 at Volkel and equipped wit T-33A's, F-84E and F-84G Thunderjets as well as some AT-16 Harvards for instruction purposes. Indeed, training new pilots was the unit's first task and has been throughout much of it's history. By 1956, F-84F Thunderstreaks had taken over from the straight-winged Thunderjets.Next, in 1958, came a move to Woensdrecht. Woensdrecht's Fighter School with it's Meteor T.7's amalgamated with 313 sq under the former name. After phasing out of the Meteors, only the T-33A's remained.

Twenthe, 7 October 1987.
In 1972, 313 sq is reformed at Twenthe with the new Northrop NF-5A/B. 313 sq's task becomes theater conversion of trainee fighter pilots returning from initial training abroad. Late 1986, 313 sq loses the theater conversion task and becomes an operational NF-5 unit. Conversion to the F-16 takes place during 1988. Completion of the conversion to the F-16 also leads to the adoption of a new squadron badge. The original one contained a young bird hovering over a runway, signifying the unit's training task. The new badge is that of a tiger's head with the text "Scherpgetand" (sharp-teethed). The F-16 to the left still bears the old badge, as does the NF-5B above.

Twenthe, 23 March 1990.
In 1994, 313 sq once again becomes a Theatre Conversion Unit, taking over this role from the disbanding 316 sq. This situation lasts until late 2001 when 306 sq took over this role. At the end of 2002, 313 sq again presented itself as an operational unit to NATO, only to be informed during 2003's Open Day at Twenthe about definitive disbandment before 2007.

Not to be outdone, 313 sq belatedly celebrated it's 50th anniversary with an event that might be classified as a Mini Tiger Meet. Despite recent policy, a single seater F-16AM, J-366, was sprayed in a very nicely designed Tiger livery.
| | |
| --- | --- |
| | This plainly marked 313 sq F-16AM, J-511, is seen here landing on 1 April 2004. Note the Tiger's head badge in it's toned-down version and compare with that of J-142 and it's old badge above. |
| | |
| --- | --- |
| Although the training task is over, 313 sq still has a number of two seaters on charge. F-16BM J-065 is seen here on 1 April 2004 landing at Twenthe. Note the ALQ-131 ECM pod on the centerline. | |
| | |
| --- | --- |
| | J-016 has been the official display F-16AM for a number of years now. It showed it's impressive display during the 313 sq anniversary day as well. Note the SmokeWinder smoke generator pods on the wingtips. |
| | |
| --- | --- |
| The number of aircraft visiting from abroad is inevitably smaller nowadays than it has been some 20 years ago. Nevertheless, the presence of a pair of French Navy Super Etendards Modernise from Landivisiau is not an every day event. In this picture, SEM serialled 55 from Flotille 11F is seen taxiing, it's fueltanks painted in tiger colours. | |
Another member of the NATO Tiger Association is the German Air Force's AG 51 from Schleswig-Jagel. This base incidentally will host the Tiger Meet for 2004, with AG 51 of course as the host unit. As AG 51 has a recce task, the pod beneath 44+71's fuselage contains cameras.

Thanks go to Twenthe's CO and PR staff for making possible this visit, especially now when the base is known to be slated for closure.
All pictures (c) Hans Rolink