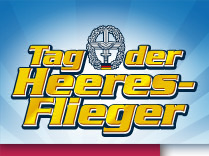 Tag der Heeresflieger
Bückeburg, Germany
9 September 2006
| | |
| --- | --- |
| The German Army Aviation, known as Heeresflieger in Germany, celebrated its 50th anniversary during 2006. Just like the Luftwaffe and the Marineflieger (Naval Aviation), this branch of the German Armed Forces staged an airshow for the occasion. Venue was Bückeburg near Minden. This base is home to the Heeresfliegerwaffenschule (Army Aviation School) and consequently houses most of the helicopter types in service. Of course, the Army took the occasion to show its newest hardware in the shape of the Eurocopter AS.665 Tiger. | |
| | |
| --- | --- |
| | Not yet issued to any front line Regiments, the Tiger came from the joint Franco/German training unit EFA. The abbreviation is particularly convenient, as it stands for l'Ecole Franco-Allemande de formation des équipages d'hélicoptère Tigre, or Franco/German Tiger crew school. The unit is based at Le Luc in the French provence area and also parents this French Tigre. Note the difference in spelling, as well as the difference in equipment fit between the two versions. The German version, UHT, carries the sight on the top of the rotor mast, while in the French AHP version this equipment resides on the cabin rooftop. |
| | |
| --- | --- |
| Old met new at Bùckeburg. In German service the Bell Huey still is in widespread service with both the Army as well as with the Air Force. This is an Army UH-1D belonging to the resident Waffenschule being put through its paces during a simulated air mobile Army operation. The Huey's days are numbered however, its successor could be seen in the air during a solo demonstration | |
| | |
| --- | --- |
| | The type that will eventually replace the Army's UH-1D's is the NH Industries NH.90. Two versions of this helicopter are being produced, the TTH (Tactical Transport Helicopter) variant a.o. intended as a UH-1D successor for the Heeresflieger. That service will have 50 with an option for a further 30, with 23 (with seven on option) going to the German Air Force. |
| | |
| --- | --- |
| Foreign visitors included types and operators rarely seen in central Europe. This Royal Norwegian Air Force Bell 412 Arapaho was one of two in Bückeburg's static park Norway has a sizable fleet of these helicopters and some will be replaced in due course with the NH.90 TTH variant shown above. | |
| | |
| --- | --- |
| | Of the Nordic countries, Finland has the rarest seen helicopter force and the show organisers must be higly praised for having been able to bring over one of the Finnish Air Force's Mil Mi.8PS helicopters. HS-6, which is one of only four remaining in service with HeKop (Helikopteripataljoona or Helicopter Platoon) based at Utti. This type is also to be replaced by the NH.90, thus giving its Finnish crews a chance to have a look at their new mount during the show. |
| | |
| --- | --- |
| Special colourschemes were also part of this airshow, fortunately. The now familiar Tigered Bo.105 from the Army as well as the Lynxed Lynx from the Navy were joined by this Bo.105 from KHR 26 from Roth in Bavaria. A fact that is easily betrayed by the blue-white chequerboard on this Bo.105P | |
| | |
| --- | --- |
| | Not a very usual sight, this Hungarian Mi.24P. The single cannon version of the Hind is more often passed over when it comes to Hungarian Hinds being displayed. The Hungarian Air Force operates a mix of Soviet/Russian supplied Mi.24V's with a gun turret as well as former East German Mi.24P's with a fixed nose mounted cannon. This example is one of the latter. |
Indeed, the only fixed wing type on show was this French Army Pilatus PC.6 Turbo Porter. This Swiss built machine came from ECTM (Escadrille de Transporte et de Convoyage du Matériel), which is part of ERGM (Etablissement de Réserve Générale du Matériel) at Montauban. This unit supports the Montauban logistics centre for which task it operates two of these PC.6's.

An interesting collection of helicopters and the odd fixed wing type found their in the static park. The flying display was a bit short with German Army's air power demonstration, NH.90 and Tigers as well s the Hungarian Mi.24 being demonstrated in flight, but the show organisers did their best to avoid annoying the communities surrounding the base.

Nevertheless, Bückeburg's show was a good day out. The show organisers even catered for the enthousiasts with a preview on 9 September. KLu, please take note!
All pictures (c) Hans Rolink