FWIT 2003
Leeuwarden, the Netherlands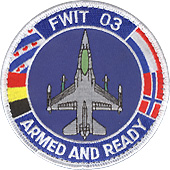 The above acronym may not mean a lot for a bystander, but for the directly involved it certainly does. Standing for Fighter Weapons Instructor Training it is all about training weapons instructors for the F-16 serving with the Western European NATO partners. Ever since inception in the late 1980's this included Norway, Denmark, Belgium and the Netherlands. 2003's course however did not include the Danish as this country had at that moment no requirement for weapons instructors. Six Dutch students were joined by two each from Belgium and Norway.
The below pictures were shot on 7 August 2003.
The author is very grateful to Leeuwarden's staff and the Aviation Group Leeuwarden for organising this visit.
| | |
| --- | --- |
| | As always, FWIT course host was the Royal Netherlands Air Force, the venue being Leeuwarden Air Base. FWIT is a lengthy course. The air-to-air part started on 26 May and was concluded on 8 August. One of the Dutch participants flying F-16AM J-628 bearing 313 sq's crest can be seen here making it's way to Leeuwarden's runway. Note the AIM-120 training round. |
The latter part of the air-to-air portion of FWIT requires sparring partners for DACT (Dissimilar Air Combat Training). Whilst 2002's FWIT was limited in this respect to USAFE F-15C's 2003's course was luckier.

In this view, F-15C 86-0163/LN from RAF Lakenheath's 493 FS is holding and waiting for it's take-off permission.
| | |
| --- | --- |
| | Apart from the American F-15's, FWIT 03's students had the opportunity to fly against two of the West's other top of the line fighters. This Boeing F-18C Hornet HN-423 is from the Finnish Air Force. The Finnish are becoming Leeuwarden regulars after having flown in the almost yearly Frisian Flag exercises in 2001 and 2002. This year's detachment was again a mix of all three squadrons. |
| | |
| --- | --- |
| Another set of FWIT's practise opponents were the French Air Force Dassault Mirage 2000's from Cambrai. These were Mirage 2000RDI single seaters and a single Mirage 2000B trainer. All were from EC 2/12 Picardie. Aircraft 88/12-KI can be seen here immediately before starting it's take-off roll. | |
The two seater brought along by the French detachment, 529/12-KJ, taxies out for a flight after the afternoon mission had recovered on 7 August 2003.

At the time of writing, September 2003, FWIT is still running, now in it's air-to-ground part. Like in 2002, FWIT 03 will conclude with live firing over the Hjerkinn ranges in Norway while flying from Ørland, closing with a symposium coinciding with student graduation at Leeuwarden in early December.
All pictures (c) Hans Rolink.