Second Reconnaissance Meet
Florennes, Belgium, 31 July 2003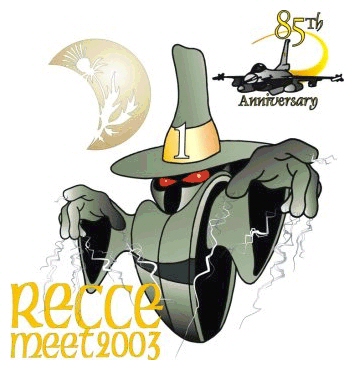 Back in the good old days of the 1960's and 1970's, NATO used to organise events like Royal Flush and Best Focus. These were reconnaissance exercises with an element of competition, or should it be described as competitions with an element of exercise. Anyway, both Royal Flush for Central European based units and Best Focus for their colleagues in Northern Europe were discontinued in the early 80's. In 2002, the Belgian Air Force, sensing a reduction in both numbers of recce tasked aircraft and units performing this mission decided to attempt to revive a pure reconnaisance aimed exercise. Organising unit was No. 1 squadron based at Florennes. This unit had gained the reconnaissance role in 1999. Many European NATO and non-NATO nations took part, major absentee being the Royal Netherlands Air Force and it's F-16AM's. Since re-roling 306 sq from recce to training, reconnaissance no longer has priority with the KLu anymore.
| | |
| --- | --- |
| | Many of the participating units took the opportunity to show off aircraft with special paint schemes, host unit 1 sq being no exception with F-16AM FA-112. This F-16 showed 1 sq "Stingers" 85th anniversary on the port side of the fin, with the starboard side being dedicated to the Recce Meet itself. See the bottom of this page for a view of FA-112 from the starboard side. |
| | |
| --- | --- |
| The flag of the French Department of Savoie adorns Mirage F.1CR 608/33-NG. The aircraft belongs to Reims based Escadron de Reconnaissance (ER) 2/33 "Savoie" which takes it's name from the aforementioned department. The pylon under the aircraft's belly holds a Raphael TH SLAR (Side Looking Airborne Radar) pod. | |
Never to be outdone, the Italian Air Force brought some of it's AMX tactical jets to Florennes. This particular example MM7142 flies with 132 Gruppo, of which can be no mistake. See the text on the pylon tank!

Up until July 1999 132 Gruppo was part of 3 Stormo at Villafranca, but nowadays it is part of 51 Stormo at Istrana. Italian AMX's perform their recce tasking with Dutch built Orpheus camera pods, taken over from RF-104G Starfighters upon retirement.
| | |
| --- | --- |
| Two out of three Swiss Mirage IIIRS aircraft wore special paint schemes, although the reason for this was not so positive. The Swiss Air Force will be disbanding it's Dübendorf-based Mirage fleet before 2003 is out. 18 Mirage IIIRS's were ordered in the early 1960's and gave the Luftwaffe a reconnaissance capability. They will not be replaced by anything comparable like pod-equipped Hornets. Instead, their missions will be taken over by unmanned drones. Aircraft R-2110 wears a white on black colourscheme whereas... | |
R-2116 wears the opposite or rather "negative" combination. They were accompanied by an aircraft in the usual camouflage scheme.

The device on the rear fuselages of both jets has been taken from the badge of Fliegerstaffel 10 which has been associated with the Mirage IIIRS for nearly fourty years. Switzerland was one of the two non-NATO member states taking part in Recce Meet 2003.
| | |
| --- | --- |
| Another non-aligned nation that took part in the Florennes Recce Meet 2003 was Sweden. Depicted here is AJSF-37 Viggen 37950/48. This aircraft was originally constructed as an AJ-37 fighter-bomber serialled 37033 but was rebuilt as the photo-reconnaissance prototype SF-37 flying on 21 May 1973. It subsequently became an AJSF-37 following a 1990's upgrade programme. Participation of neutral countries like Switzerland and Sweden was unthinkable during the Cold War, but what is the point of neutrality in Europe nowadays? | |
| | |
| --- | --- |
| | Up until early 2002, the Spanish Air Force flew dedicated RF-4C Phantoms for reconnaissance tasks. It would certainly have been a marvelous sight and sound at Florennes, but nowadays the Ejercito del Aire employs the EF-18A Hornet for recce work. Seen here is C.15-61/12-19 from Torrejon's Ala 12. In due course, the Hornets will be fitted with a fuselage mounted camera pod. This EF-18 did however carry a Reccelite reconnaisance pod on the port fuselage shoulder staton. |
| | |
| --- | --- |
| Still clinging on to service with France's Armée de'l Air is the Dassault Mirage 4P. Aircraft 53/BZ is from Escadron de Reconnaissance Strategique 1/91 from Mont de Marsan. Originally, the Mirage 4P flew in the nuclear strike role with ASMP cruise missiles. Nowadays only a handful remain in service fitted with belly mounted camera systems for strategic reconnaissance work. | |
| | |
| --- | --- |
| | Another French asset usuable for recce taskings is the SEPECAT Jaguar A. Aircraft A149/7-HP from EC 1/7 at Saint Dizier carries an RP36P recce pod converted from an RP36 (Reservoire Pendulaire) 1200 litre fuel tank. EC 1/7 is the final operator of the Jag in French Air Force service and is slated to receive the first Rafales for the Armée de'l Air. |
| | |
| --- | --- |
| 30 years of Jagaur operations was celebrated in France earlier in 2003. The opportunity was used to spray two-seater Jaguar E E37/7-HZ in this attractive colour scheme. | |
| | |
| --- | --- |
| | Apart from the AMX seen above, Italy's Aeronautico Militare sent two Tornados to Florennes. Both, including MM7086/6-37, came from 154 Gruppo. This squadron is part of 6 Stormo and is based at Ghedi near Brescia. |
Apparantly attempting to stop their mount before the runway's halfway point, this German Navy Tornado crew lean heavily on the jet's brakes. Furthermore, note the maximum setting of the tailplane, the closed thrust reverser buckets and the deployed wing spoilers on 45+42.

MFG 2 at Eggebek operates a number of Tornados in the recce role equipped with camerapods built by MBB, now known as DASA.
For many years, the Jaguar has given the RAF a tactical reconnaissance capacity. GR.3A XX737/EE returns from it's Recce Meet mission carrying an example of Vinten's Vicon 18 series 601 digital camera system. For most of their carreer in recce, Jags carried a rather larger wet film based camera pod.

Despite that 41 sq is the designated recce Jaguar squadron in the RAF, this jet wears 6 sq markings.
| | |
| --- | --- |
| A right side view of Belgian Air Forces F-16AM FA-112 from No. 1 sq. The tailfin artwork was designed especially for Reconnaissance Meet 2003. | |
All pictures (c) Hans Rolink.