NATO Tiger Meet 2010
Cambrai-Epinoy, France
15-17 May 2011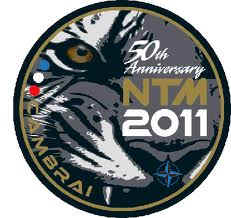 In 1961, NATO's first Tiger Meet was held at RAF Woodbridge, Suffolk, UK. This get together of the USAFE's 79 Fighter Bomber Squadron and the RAF's No. 74 sq proved to be such a success, that the Meet was held the following year as well. Since than, interspersed by a few years in which no NATO Tiger Meets were held for various reasons, the Meet has attracted numerous NATO flying units with diverse equipment every year for a mix of social gatherings, beers and especially since the last decades, Combined Air Operations. Fifty years on, the NTM's founding members have either returned home (79 FBS) or disbanded long ago (74 sq).
A loyal member of the early years, the French Air Force's EC 1/12 "Cambresis" now faces the same fate. Within EC 1/12 however the Tiger traditions are with component flight SPA 162, which will most likely be embedded with another squadron in order to maintain traditions. The squadron kept up their spirits by decorating two Mirage 2000's in Tiger liveries. The third Mirage to the extreme right is a Mirage 2000-5F from EC 5/330 based at Mont de Marsan.
Three F-16's from three different countries. To the left, F-16AM FA-87 from the Belgian Air Component's 31 Smaldeel can be seen taking off, with a Portuguese F-16AM from Monte Real's Escadra 301 taxiing out in the centre image. A Probationary Member at the time of writing is the Polish Air Force's 6 Fighter Squadron from Poznan-Krzesiny. One of the unit's F-16C Block 52+'s which replaced Sukhoi Su.22M-4's not so long ago can be seen landing to the right. Note the badly chipped Tiger decoration on the jet's fin. The Belgians did not take part this year due to commitments having to do with NATO's operations over Lybia. FA-87 had been at Cambrai for the air show at nearby Cambrai-Niergnies.
Despite their uneasy relationship, both Turkey and Greece took part. The Turkish Air Force showed up amongst others with both of 192 Filo's decorated F-16's from Balikeshir. The Greek did not have any F-16's in Tiger livery, all 335 Mira's F-16's from Araxos were plain grey.
Unlike the Polish, the Czech Air Force's 211.Taktisk Letka from Caslav is now a Full Member. Two of its SAAB JAS-39C Gripens were to be seen in Tiger livery, with 9245 seen centre being a left over from 2010. 9235 seen to the left is the unit's new Tiger. The Swiss Air Force's Fliegerstaffel 11 always has for obvious reasons F/A-18C Hornet J-5011 painted in Tiger livery. The unit's latest offering can be seen to the right.
| | | |
| --- | --- | --- |
| | | |
An honorary member is the Slowak Air Force's 1st Fighter Squadron from Sliac. Despite not being in a Tiger livery, MiG.29 0619 looks the part in its pixelated colour scheme. Two German Luftwaffe units are Tiger members, reconnaissance tasked AG 51 from Schleswig-Jagel having painted Tornado 45+51 in a striking panther scheme. Lechfeld's JBG 32 is the other unit. The wing's Tornado ECR 46+29 is seen in take-off to the right.
Despite having been seen at nearby Cambrai-Niergnies during the airshow of 15 May, these helicopters deserve mention. To the left, an AB.212AM from 21°Gruppo from Grazzanise, Italy. It flew in daily Combat Search And Rescue (CSAR) missions along with the Czech Mi.35 Hinds from 221.Vrtulnikovi Letka from Namest nad Oslavou. Although not a member of the Tiger Association, the French Army found the opportunity to apply Tiger markings to one of its EC.665 Tigre combat helicopters to good to pass over.
Last but not least; the Austrian Air Force's Jet Training Squadron from Linz-Hörsching is another Honorary Member. One of the unit's SAAB 105Oe's is seen here landing at Cambrai.

This was the last NATO Tiger Meet to be held at Cambrai, for the base will close its gates sometime during during 2012.

In view of the base's bleak prospects, the French Air Force and in particular the base's personell is to be commended for having organised this 50th Anniversary NATO Tiger Meet. A complicating factor has been the ongoing NATO operations over Lybia which drew many units away from their bases and planned exercise schemes.

Next Tiger Meets to look forward to: Monte Real (Portugal) 2012, Araxos (Greece) 2013 and Schleswig-Jagel (Germany) 2014.
All pictures (c) Hans Rolink