Base Aeronaval Viña del Mar
Aviación Naval Chilena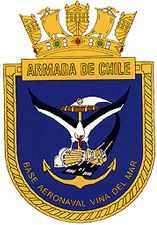 Qualitatively, if perhaps not quantitatively, Chile's Navy has been among South America's best for many years. Any modern Navy needs an aviation element as well, a fact recognised by the Chilean government of 1923 when the decision was taken to establish the Aviación Naval. Initial equipment consisted of UK supplied aircraft like the Sopwith Baby and AVRO 504K. Initially, the Aviación Naval flew from the Naval base south of the city of Valparaiso near Los Torpederas beach. In 1926 a move to a site called Quintero, to the north of the sea resort of Viña del Mar, was initiated. Due to the expansion of the city of Viña del Mar the base was moved yet again, now to a location near Concon. Flying operations started here in 1989.
Today, Viña del Mar houses Fuerza Aeronaval No.1 which is the parent unit to a number of squadrons. These units include VC-1, VP-1, HU-1 and the flight school to which VT-1 is assigned. Detachments are kept at Los Condores near Iquique in the extreme north of the country as well as at Carlos Ibañez near Punta Arenas and at Puerto Williams in the extreme south of Chile.
Viña del Mar was visited by the author on 21 October 2003, something for which the undersigned would like to thank the Chilean authoroties as well as Graham Dinsdale and Garreth le Sueur.
All pictures (c) Hans Rolink.
---