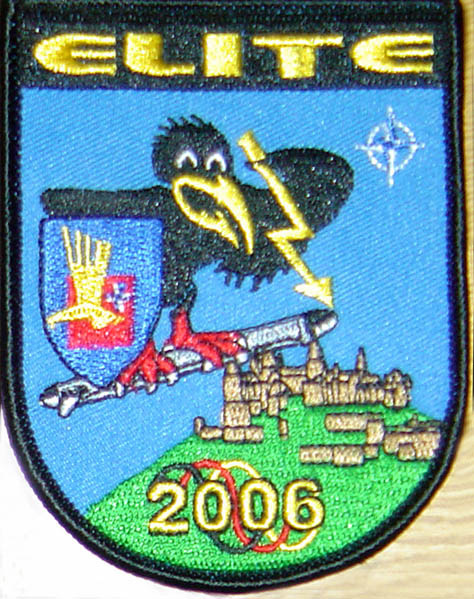 ELITE 2006
Lechfeld, Germany
11 May 2006
Despite the many drawdowns within Europe's military, perhaps because of it, a number of multinational exercises is still being held on the continent. One of them is ELITE. First held in 1991, the abbreviation stands for Electronic Warfare Live Training Exercise. The intention is to train and integrate flying units with Surface to Air missile units. This includes the training for the use of ECM systems and performance in the face of ECM systems used by the opposition. ELITE is not intended for basic instruction, the complex scenarios executed require a certain level of experience from the participants.
| | |
| --- | --- |
| Host unit is the German Luftwaffe's Jagdbomber Geschwader 32, home based at Lechfeld in the extreme south of Germany. Other bases involved with ELITE include Manching near Ingolstadt. This year, Neuburg was not one of those other bases as this base is now being prepared for the reception of the Eurofighter.Here, one of the host unit's Tornado ECR's can be seen arriving after its mission on 11 May 2006. The exercise scenarios require the carrying of ECM pods as well as SEAD training rounds, in this case a single AGM-88 HARM (High Speed Anti Radiation Missile). | |
| | |
| --- | --- |
| | International participation came in the shape of RAF Tornados, Greek and Turkish F-16's, Turkish Phantoms as well as Polish Su.22's. All these types and personnell brought with them their own systems and experience in some cases peculiar to these nations. For instance, this 31 sq RAF Tornado GR.4 can be seen on finals carrying an ALARM anti radiation missile in use with the Royal Air Force. |
| | |
| --- | --- |
| An example of the many non-German participants can be seen here. In this view, one of the Greek F-16CG's is taxying back to it's dispersal. The Greek unit participating in ELITE 2006 was 341 Mira from 111 PM at Nea Anghialos which specialises in the employment of the HARM missiles as evidenced by the training round visible under this aircraft's right wing. | |
| | |
| --- | --- |
| | Despite political differences with the Greek, the Turkish Air Force also took part in ELITE 2006, sending no less than two different types of aircraft, thus maximizing training output. This F-16D Block 50 is from 151 Filo from Merzifon. This squadron, like their Greek counterparts from 341 Mira, specialises in the use of the HARM missile, as is shown by the missile toting bird in the unit's squadron badge. |
| | |
| --- | --- |
| The other Turkish participants included the F-4E Phantoms from 111 Filo based at Eskisehir. These have now gone through the F-4E 2020 modernisation programme as can be seen by the addition of an extra aerial on the aircraft's spine. Many system improvements have been performed with this type of aircraft by the Turkish Air Force's modification plant at Eskisehir. | |
| | |
| --- | --- |
| | The Spanish Air Force has HARM shooters within Ala 15 at Zaragoza which took part in ELITE 2006. Despite this, the Hornet depicted here is without a HARM training round or other direct evidence of its SEAD and/or ECM involvement. Other Hornets did fly with a HARM training round however. |
| | |
| --- | --- |
| Of course, NATO's newest members need to be trained in the art of electronic warfare as well. Of those former Warsaw Pact Air Forces, the Polish Air Force is arguably the best equipped. The Polish Air Force still flies three squadrons of Sukhoi Su.22M4 and Su.22UM3K trainer variants. One of each variant was with ELITE 2006 at Lechfeld. The two seater, adorned with special markings from its operating unit, 8.elt from Mirosławiec. The Fitters are to remain in service until 2012. | |
Over the years, ELITE developed into an exercise which has become a regular part of the multinational scene. Indeed, it is the only one of its kind in which electronic warfare is emphasised.
All pictures (c) Hans Rolink